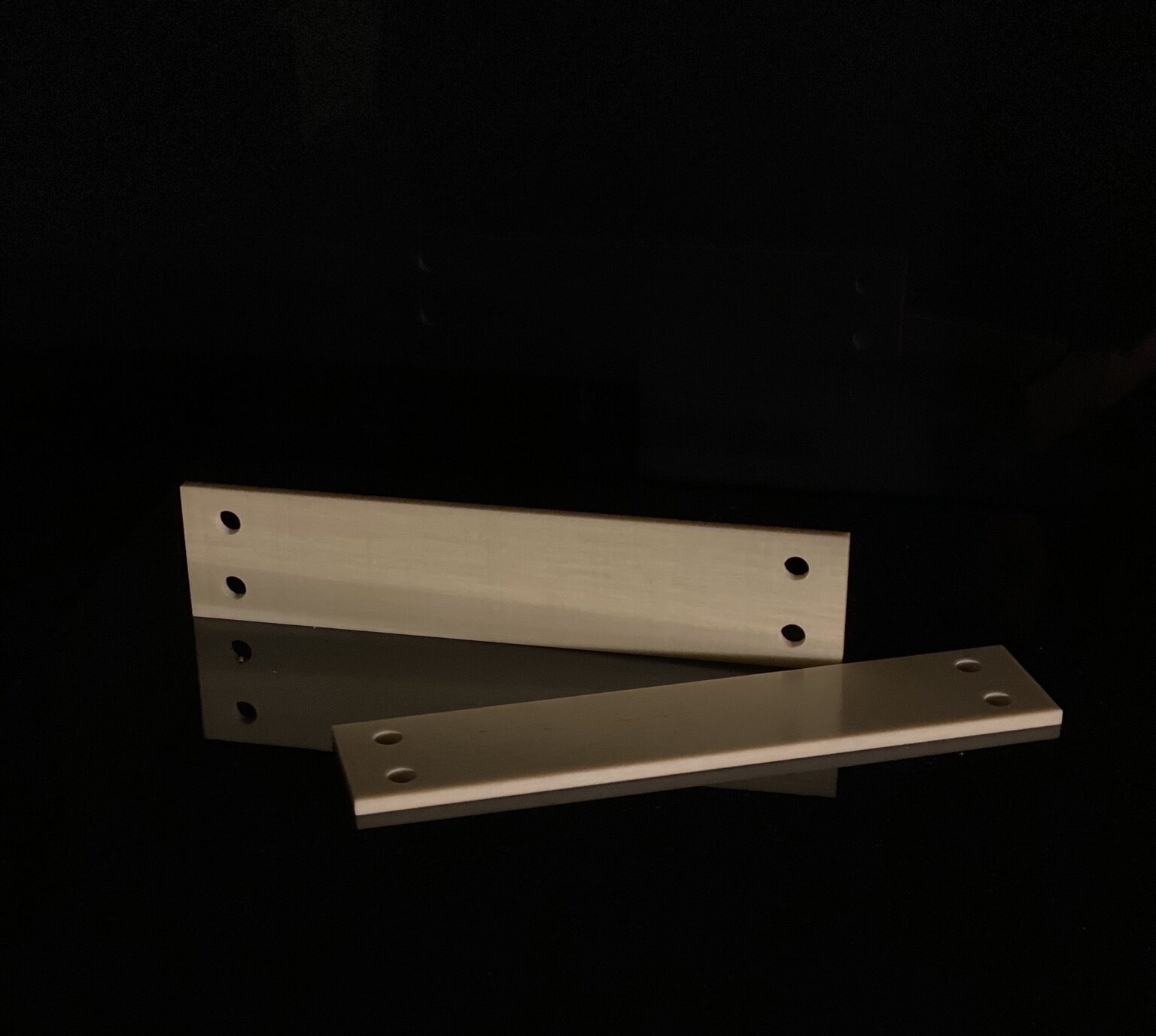 Based on the individual needs of our customers, we manufacture flat guide springs from a composite of glass-fibre-reinforced epoxy resin. Their special balanced composition ensures optimal dynamic properties.
Key features of high quality flat guide springs:
The flat guide springs have a high elastic energy storage capacity combined with high mechanical strength.
The result: compared to steel leaf springs, they have a much higher elastic effect, higher internal damping and a more balanced elastic behaviour, with a much higher retention capacity of elastic energy than spring steel.
The mechanical properties of the springs can be adapted to different applications by directing the different pre-impregnated layers towards each other.
Result: The overall mechanical strength available is concentrated exactly where it is needed. This ensures that the spring perfectly matches the load.
Flat guide springs provide a balanced ratio of mechanical strength to weight. Further attributes are high fatigue strength with "damage resistance", corrosion resistance, impact resistance and electrical insulation.
Result: These features enable the construction of high performance, mechanical and dynamic systems. They are used in screening machines, vibrating dispensers and feeders.
Offered thicknesses:
thickness from 0,75 mm to 6,5 mm (0,25 mm pitch)
thickness from 7 to 13 mm (0,5 mm gradation)
thickness from 13 to max. 25 mm (1,0 mm pitch)
Thickness tolerances:
nominal size up to 1,25 mm : tolerance ± 0,12 mm
nominal size up to 2,00 mm : tolerance ± 0,15 mm
nominal size up to 4,00 mm : tolerance ± 0,22 mm
nominal size up to 6,50 mm : tolerance ± 0,27 mm
nominal size up to 12,00 mm : tolerance ± 0,32 mm
nominal size up to 20,00 mm : tolerance ± 0,36 mm
nominal size up to 25,00 mm : tolerance ± 0,40 mm
Length and width tolerances:
nominal size up to 6 mm : tolerance ± 0,1 mm
nominal size up to 30 mm : tolerance ± 0,2 mm
nominal size up to 120 mm : tolerance ± 0,3 mm
nominal size up to 400 mm : tolerance ± 0,5 mm
nominal size up to 1000 mm : tolerance ± 0,8 mm
nominal size up to 1500 mm : tolerance ± 1,2 mm